Dental Veneers in Essex
Smile With Confidence
Dental Veneers or Teeth Veneers
Dental porcelain veneers are commonly used for stained, discoloured, or uneven teeth. Whilst they are known for creating that straighter, whiter smile, veneers can also be used for chipped, or damaged teeth, and even some minor orthodontic cases (closing minor gaps). If you are looking for a smile makeover then porcelain dental veneers could be an affordable solution for you in achieving a natural looking smile, by replacing the front enamel of the teeth.

Dental veneers for teeth are usually made from pieces of porcelain, and are shaped into a thin layer to fit over the front surface of your tooth. Patients can opt for a few dental veneers, or a a full set of dental veneers depending on their case and budget.
While it is nearly impossible to tell the difference between a porcelain veneer and a natural tooth, they provide the strength and resilience comparable to natural tooth enamel. Unlike natural teeth, custom made veneers can resist coffee stains, tea stains, and cigarette smoke stains because they are made of high-tech materials. With veneers (as opposed to dental crowns) your natural teeth remain largely intact with only a minimal amount being altered to fit the veneer.
Veneers can also be made from composite material and can be done during the same appointment, however they stain easily and do not last as long as porcelain veneers. Porcelain dental veneers in Essex offer patients both a practical and aesthetically pleasing solution for restoring the appearance of their teeth.
Why Do People Get Veneers?
Dental veneers are a versatile solution which can be used to:
Improve the appearance of stained teeth
Resolve chipped teeth
Enhance the look of general wear and tear on teeth
Restore the appearance of crooked or protruding teeth
Close the gaps between teeth
Not susceptible to staining due to their composition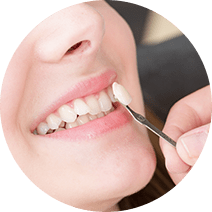 Benefits of Dental Veneers
Dental veneers are:
Quick, painless and convenient

Long lasting and durable, usually lasting between 10 and 15 years

Natural looking and custom made to match to your own tooth enamel

Impossible to tell the difference between

veneer

and your natural tooth

Made of high quality materials which resist usual stains of tea, coffee and red wine

Little or no preparation is needed

Your natural teeth remain intact with little alteration to fit the

veneer
Before & After Dental Veneers Treatment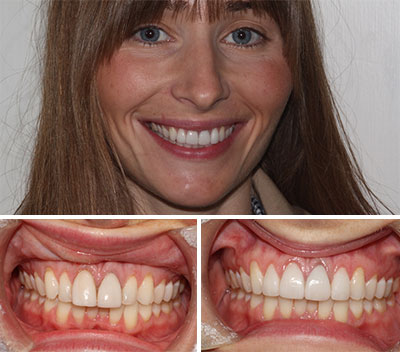 Our veneers patients come from Ockendon, Grays, Orsett, Rainham, Upminster and beyond! See what our patients say about veneers reviews here
It was not at all painful
I highly recommend Street Farm for Veneers
Excellent dentist whose main priority is making sure his patients are comfortable and get the best dentistry he can offer. I love my new smiles with Veneers
Sharon, Essex
★ ★ ★ ★ ★
Usually the process of fitting veneers takes at least two visits.
The first visit in the veneers process is used to prepare the tooth and match the shade of porcelain. The dental team take an impression of the tooth in order to match the exact size.
The second visit is to bond the veneer to the tooth using a special adhesive. Your dentist will show you the veneer and how it will look before it is fixed in place.
At Street Farm Dental, Essex, we know that every patient is unique and so we recommend you book a free consultation to discuss your individual veneers treatment plan.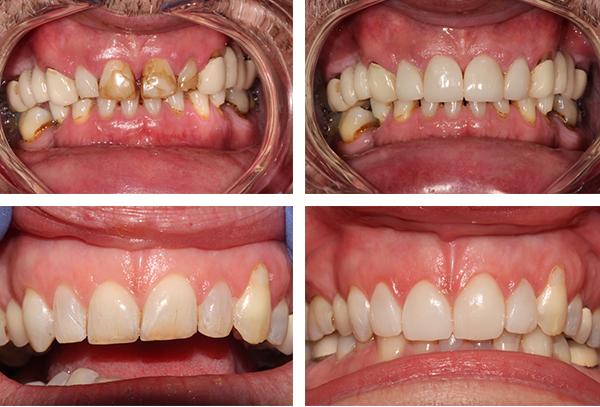 Why Choose Street Farm Dental Veneers, South Ockendon
Your natural teeth remain intact with little alteration to fit the

veneer

Free

initial consultation

to discuss your treatment options

Personal smile advisor who will guide you through your visits and your treatment plan

0% APR on our 12 month finance plan

Highly skilled staff who are fully qualified with special techniques to help nervous and anxious patients

Award winning practice and service recognised by the dental industry

Comfortable surroundings complete with free tea & coffee and your choice of DVDs and music

Free parking and a 3 minute walk from Ockendon station
How Much Do Dental Veneers Cost?
Patients often ask "
How much are dental veneers?
" It is impossible to give you an accurate price for veneers without meeting you first and so we always recommend booking a
free initial consultation
to talk through your treatment and finance options.
On average, dental veneers cost from £599 or just £2.78 per day with our 0% finance plan. If your looking for affordable teeth Veneers, Street Farm Dental can help.
We have devised a number of payment plans to help you afford the right treatment. Find out more
Cosmetic Treatment at Street Farm Dental
Book a FREE Consultation
We'd love to meet you face to face
Contact us today to find out how we can help you improve your smile
We Offer 0% Finance Options
Interest-free and low-cost payment plans with Chrysalis Finance
Dental treatments costing as little as £30 per month